COVID-19 Vaccines for ages 5-17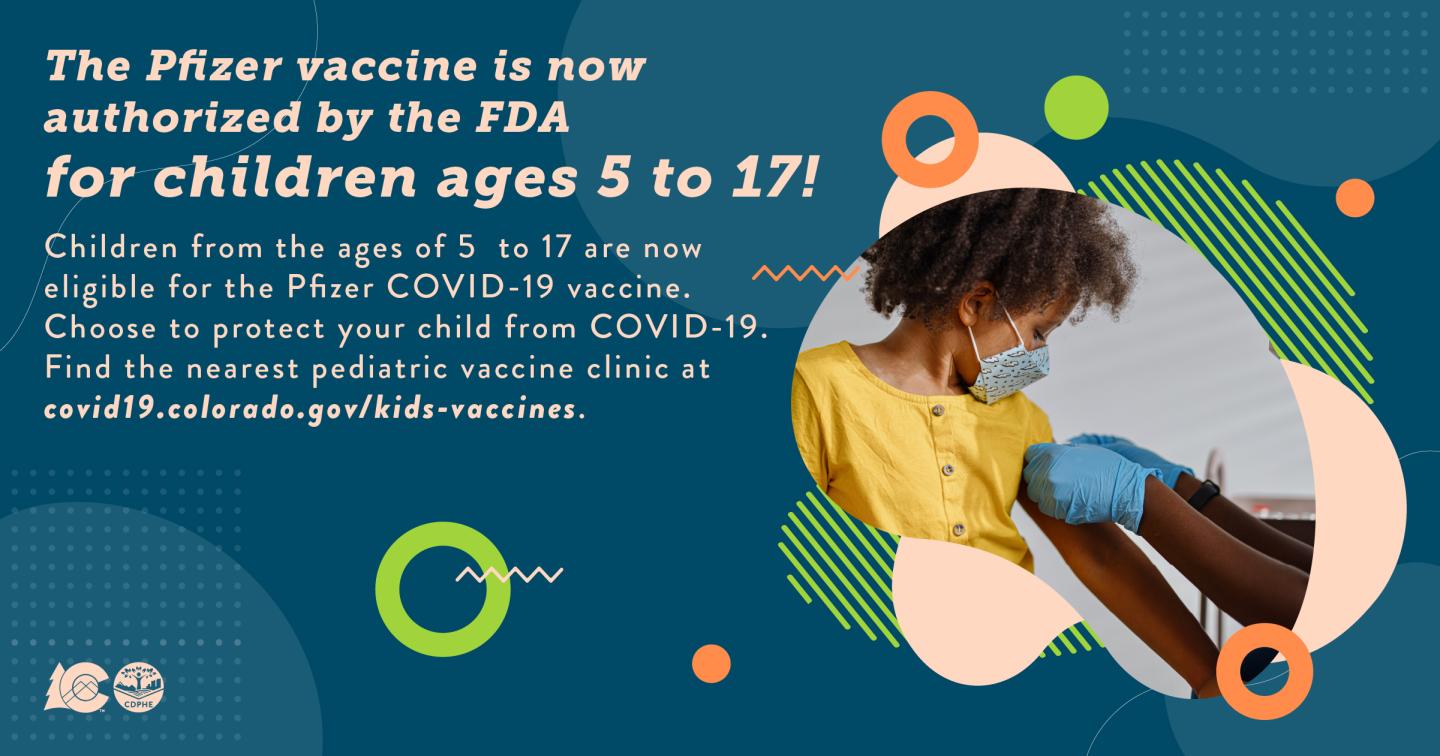 Dear Families,
The safety of our students, teachers and staff is our first priority, and that's why I was so pleased to see that the Centers for Disease Control & Prevention (CDC) has recommended children ages 5 to 17 get the Pfizer COVID-19 vaccine. While the Pfizer vaccine has been available to adolescents aged 12 to 17 for months, the expanded authorization of the vaccine for children down to the age of 5 is an important milestone in our ongoing efforts to maintain a safe and healthy school environment and ensure that students can continue to benefit from both in-person learning and extracurricular activities.
While children are less likely to get seriously sick or die from COVID-19 than adults, we know they are still at risk and can spread the virus to others. Vaccinating children, tweens and teens will help maximize the safety of our students and ensure fewer interruptions to in-person learning. Clinical trials showed that the Pfizer vaccine is safe and extremely effective in this age group -- the vaccine for children aged 12 to 17 was 100% effective in preventing infection, and for children aged 5 to 11 it was about 90% effective in preventing symptomatic COVID-19. Both vaccines were 100% effective in preventing severe disease.
In addition to supporting a safe school environment for students and educators, vaccinated children can safely enjoy holiday activities, participate in extracurricular activities and see family and friends.
Vaccinating your children now will help make sure they don't spread COVID-19 to their grandparents or at-risk family members during the holiday gatherings we are all looking forward to this year.
Obtaining the COVID-19 Vaccine for Your Children
You can ensure your child has a positive vaccine experience by talking with your child's health care provider to get the facts and choose where your child will be vaccinated. Learn more about COVID-19 vaccines by visiting trusted sources such as the CDC and the American Academy of Pediatrics' Healthy Children websites.
Children aged 5 to 17 can get a vaccine at any provider that has the age-appropriate Pfizer vaccine(s). You can find providers with Pfizer for 5-11 and 12+ on the Colorado Department of Public Health and Environment (CDPHE) vaccine finder web page or on Vaccines.gov. In addition, a number of community organizations are hosting partnerships to host vaccine clinics across Colorado for children ages 5 - 17. To find the nearest vaccine clinic near you visit https://covid19.colorado.gov/kids-vaccines.
Family Resources
○ COVaxRecords.org - Access your child's immunization records
○ COVax4Kids.org - Find out where to access no- or low-cost vaccines
○ Find your local public health agency.
○ Find answers to your questions about COVID-19 vaccines in CDPHE's vaccine FAQ.
○ Find more information and locate providers with the Pfizer COVID-19 vaccine for children.
Under Colorado's Healthy Families and Workplaces Act, you're entitled to paid time off to take your child to their vaccine appointment and stay home with them if they experience side effects from the vaccine. If you aren't planning on accompanying your child to their vaccine appointment (i.e., if they are getting vaccinated at a school-located clinic), be sure to sign a parental consent form and have your child bring it with them to their appointment.
The COVID-19 vaccines authorized for 5- to 17-year olds are a two-dose series. Talk with your child and help them understand that they will need two doses of the vaccine to keep them safe and healthy. Talk to your child's health care provider or local public health agency about your questions. It is safe for your child to receive other routine vaccines on the same day as a COVID-19 vaccine, so you may be able to include other routine vaccinations at the appointment, which are vital for keeping kids protected from other illnesses.
It's normal to have questions about something new like a COVID-19 vaccine. If you're not sure about the answers to your child's questions, look them up together using trusted sources like CDC, CDPHE, and the American Academy of Pediatrics' Healthy Children website.
Debbie Eggleston
Cotopaxi School Nurse
Immunization Changes for 2021-2022
Beginning in the 2021-2022 school year, the process of filing a nonmedical exemption will change. There will be two ways to file a nonmedical exemption.
File the certificate of nonmedical exemption WITH a signature from an immunizing provider, OR

File the certificate of nonmedical exemption received upon the completion of the online education module on the CDPHE website.
IMPORTANT: Nonmedical exemptions expire each year on June 30 therefore a nonmedical exemption must be submitted annually.
Please see the link for full details and downloadable forms.
Monitoring Coronavirus
Cotopaxi Schools have been coordinating with local public health agencies as we monitor the global outbreak of Coronavirus Disease 2019 (COVID-19), keeping in close contact with Fremont Public Health Department (FPH) and the Colorado Department of Public Health and Environment (CDPHE) on this subject.
We want to take this opportunity to provide you information about how Cotopaxi Schools is monitoring this issue.

What is Cotopaxi Schools Doing?
Since the beginning of the outbreak, Cotopaxi Schools has been collaborating with our public health partners. The school district has an emergency operation plan and we work in coordination with these agencies to ensure the continuity of learning throughout any such situation.
It is important to know that during a major outbreak, we would follow the health department's lead on any quarantines, closures, or other health measures needed.

What is Coronavirus?
Coronaviruses are a large family of viruses that cause respiratory symptoms such as fever, cough, and shortness of breath. These viruses spread through coughing or sneezing, much like the flu. There is no vaccine for the COVID-19.

Protecting yourself from Coronavirus COVID-19 and other respiratory viruses (source: CDPHE):

If you are sick:
Stay home

Cover coughs and sneezes with a tissue or your inner elbow shirt sleeve.

Wash your hands with soap and water or, at minimum, alcohol-based hand rub, which may be less effective than soap and water.

Avoid touching your eyes, nose, and mouth.

Avoid close contact with anyone else with cold or flu-like symptoms.

Get your flu shot, and stay up-to-date on other routine childhood and adult immunizations.

Clean and disinfect frequently touched objects and surfaces such as desks, doorknobs, and handrails. Additionally, we have stringent cleaning practices in place at all of our district schools and facilities to help avoid disease transmission.
Feeling Sick? Stay Home!
As always, we encourage anyone who is feeling ill to stay home. Please reference the documents that our school nurse sent out previously. It is also posted on our website.
In sharing this information with you today, our intention is to provide factual information about Coronavirus COVID-19. We will continue to update families and staff as we know more about the potential progression. As a community, we must work together for the safety and well-being of all of us and we appreciate your ongoing support of our schools.
Got Questions? For general questions about COVID-19, community members can call CO-HELP at 303-389-1687 or 1-877-462-2911, or email COHELP@RMPDC.org for answers in English and Spanish.


For more information see the following documents:

COVID-19 Symptoms

Home Screening for Students

Covid Vaccine Timeline

Covid Vaccine Press Release 010421
Colorado law requires all students attending Colorado schools and licensed child cares to be vaccinated against certain diseases unless a medical or non-medical exemption is filed. For more information about vaccine requirements, resources and exemptions, please visit the Colorado Department of Public Health and Environment's Immunization Information page https://cdphe.colorado.gov/public-immunization-information
Vaping concerns among youth. According to the American Heart Association, one in four high school age kids report using e-cigarettes, also known as vaping. And not only are more kids and young adults using e-cigarettes, they are using them more often.
At a time of heightened stress, anxiety, and grief in our communities, caring conversations can help a young person quit or prevent them from becoming one of nearly 8,000 kids who start vaping every day.
Please see .What-You-Need-to-Know-and-How-to-Talk-to-Your-Kids-About-Vaping-Guide-Partnership-for-Drug-Free-Kids.pdf